In a major milestone for 5G, 3GPP finalized the Release 16 in July – its second set of specifications for 5G New Radio (NR) technology. As a second article in my series of 5G 101 articles, this is a good opportunity to review the 3GPP process and major 5G-related technical specification releases. As well as to clarify some misconceptions about the 5G development process.
This article provides an overview of what is 3GPP and its importance. It also explains the Releases related to 5G including Release 15, 16 and 17. The focus will be on 3GPP Release 16 and 17.
Release 16 was completed on July 3, 2020 with the slight delay due to the COVID-19 pandemic. Looking ahead, 3GPP Release 17 expected in 2021, although 3GPP announced that the Release is "at high risk of being delayed," citing the switch from physical to virtual meetings.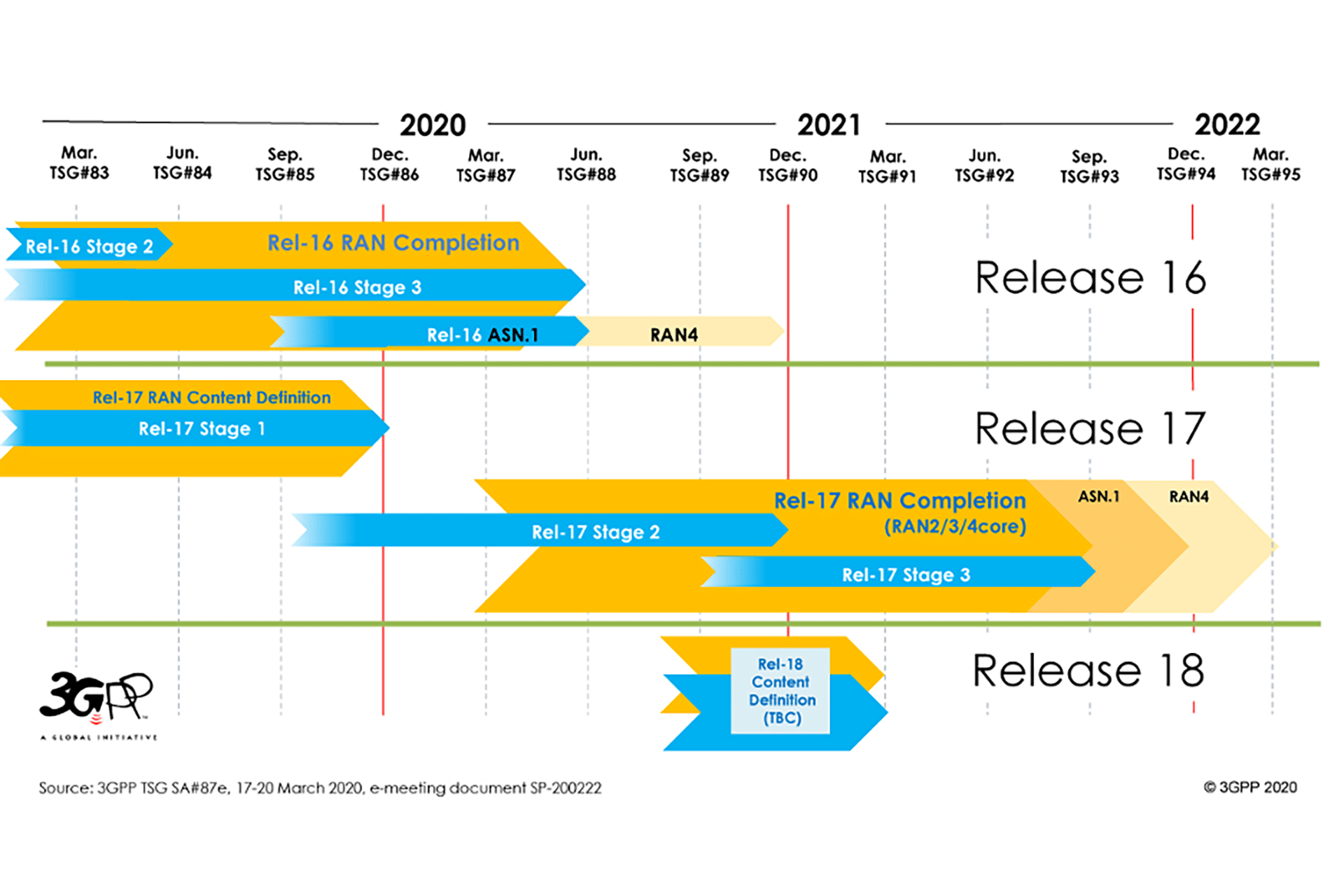 Introducing 3GPP
The common misunderstanding is that 3GPP (Third Generation Partnership Project) is a "standardization body". On the contrary, 3GPP only develops and maintains global technical specifications with the objective to make sure that network equipment and handset manufacturers can develop products that are interoperable all over the world. 3GPP is a collaborative activity between well-established regional standard organizations. The 7 telecommunications standard development organizations (or 3GPP's Organizational Partners) use these specifications to create the standards.
3GPP Organizational Partners and their Role
The 3GPP organizational partners or standard development organizations include: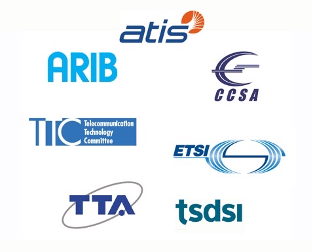 The role of these standardization bodies is to:
Approve and maintain the 3GPP scope;
Maintain the Partnership Project Description
Decide the creation or cessation of Technical Specification Groups:

Approve their scope and terms of reference;

Approve Organizational Partner funding requirements
Allocate human and financial resources to the Project Co-ordination Group
Act as a body of appeal on procedural matters referred to them
Cellular Technology Evolution from 2G to 5G
The Figure 1 shows the evolution of technology from GSM/CDMA (2G) to EDGE/WCDMA/1xEVDO (3G).
While ETSI specified GSM/EDGE/WCDM and HSPA, TIA specified the CDMA evolution. There were a multitude of standardization bodies, by Rel. 8 they all converged to on global standard called "LTE". The critical driver for the convergence was Verizon's choice to go with LTE vs. other Radio Specifications (e.g. 1xEVDO Rev. B, and WiMax). Going forward 3GPP defined the specifications which lead to the definition of 5G in 2017.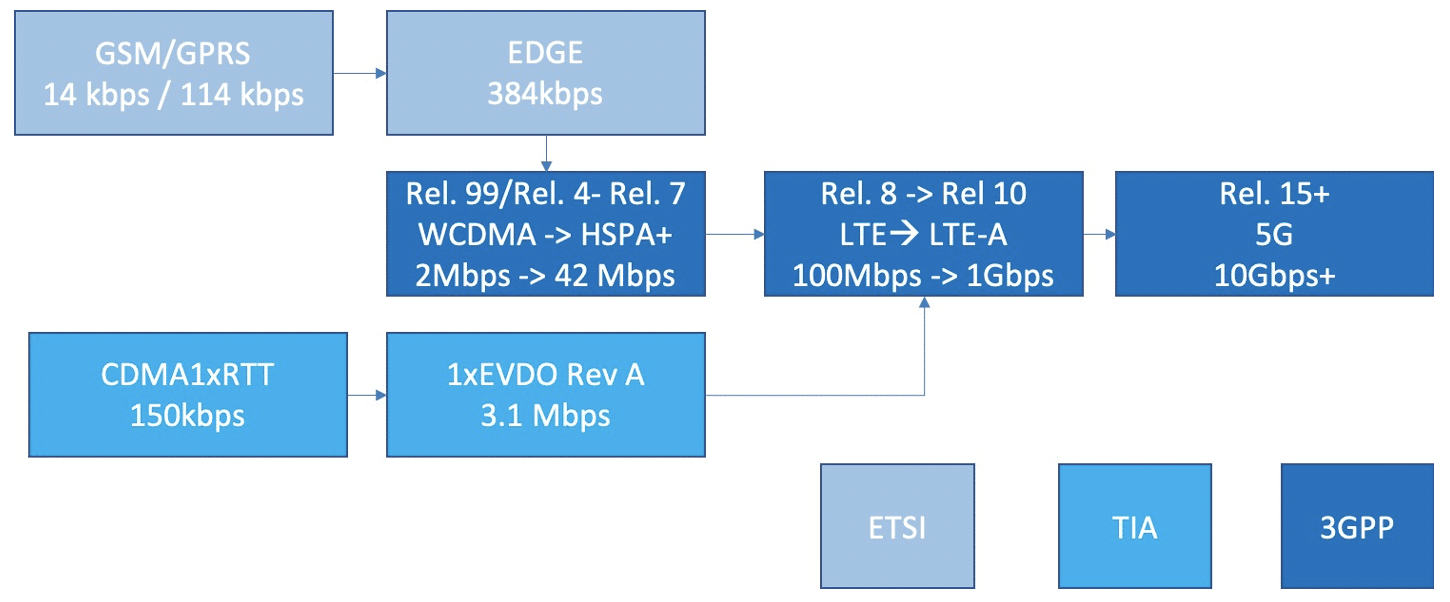 The 3GPP Release Schedule
The 3GPP release schedule since 2000 and is shown in the following table along with brief release details.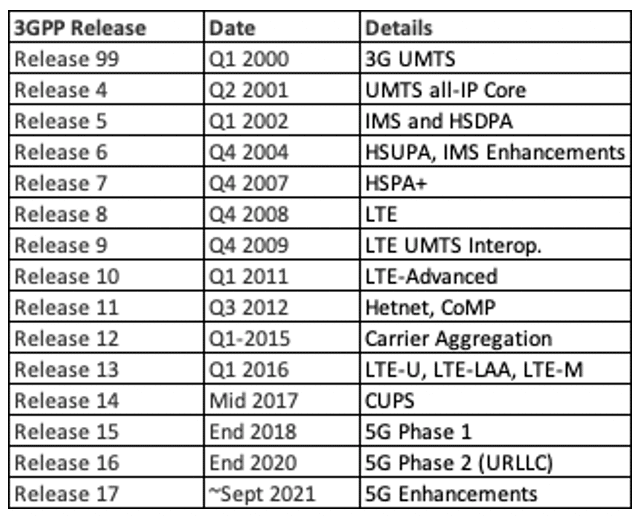 The 3GPP Specification
The 3GPP specification covers the "GSM" family of cellular telecommunications technologies, including:
radio access
core network and
service capabilities
The 3GPP specification provides a complete system description for mobile telecommunications and also provide connectivity for non-radio access to the core network and interworking with non-3GPP networks. The three Technical Specification Groups (TSG) in 3GPP are:
Radio Access Networks (RAN)
Core Network & Terminals (CT)
Services & Systems Aspects (SA)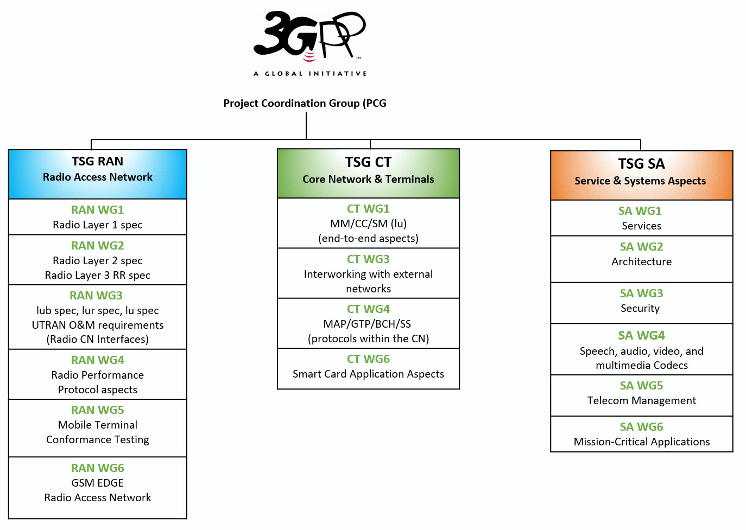 The Global Reach of 3GPP
The power of 3GPP is that it defines the specification used by 6 Billion+ mobile subscribers worldwide in 2020. This subscriber base will continue to grow at a dramatic pace as illustrated in the Ericsson Mobility Report: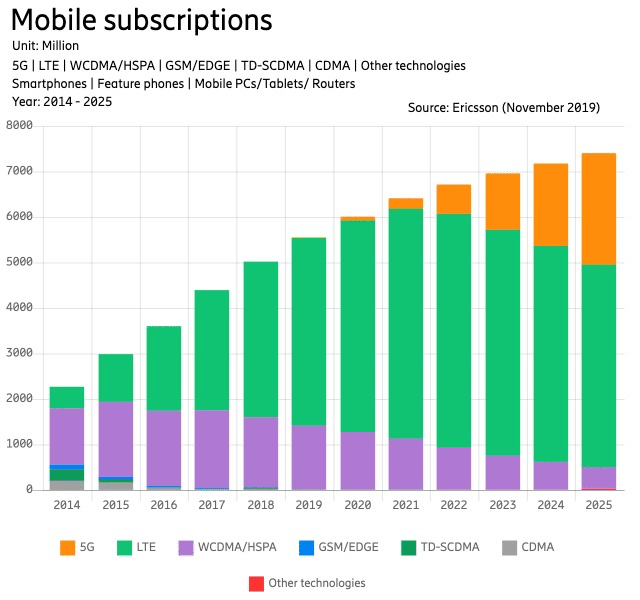 One reason for the spectacular adoption of the 3GPP technical specification is the "collaborative approach". It is global system engineering project. Participants including vendors and operators participate in the creation of the specification from initial R&D till the final product according to the specification. The ideas are taken to the body for approval, which translate into a study item, followed by work items that result in the technical specification.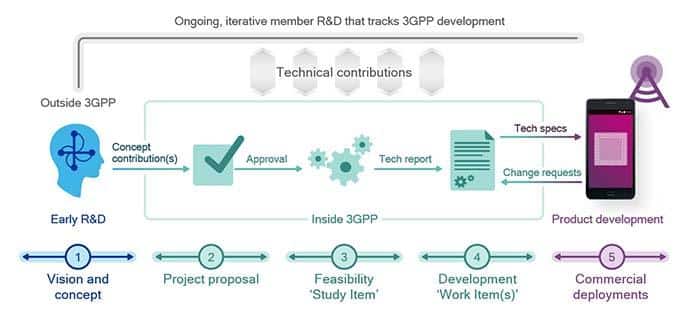 What are Requirements on the 5G Spec
5G is defined by a set of requirements that enable a set of use scenarios. These use cases depicted the following figure from the International Telecommunications Union (ITU) defined as IMT-2020: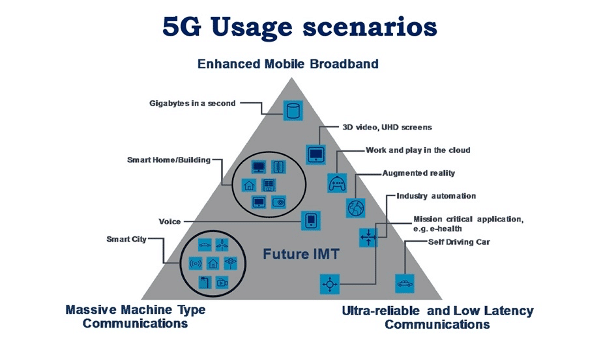 Release 15 Recap
Release 15 focus is Enhanced Mobile Broadband and therefore all features are geared towards enabling
NR "New Radio" & The 5G System – Phase 1
Massive MTC and Internet of Things (IoT)
Vehicle-to-Everything Communications (V2x) Phase 2
Mission Critical (MC) interworking with legacy systems
WLAN and unlicensed spectrum
Slicing – logical end-2-end networks
API Exposure – 3rd party access to 5G services
Service Based Architecture (SBA)
Further LTE improvements
Mobile Communication System for Railways (FRMCS)
The major characteristics of 5 NR, Release 15 i.e. Phase 1 that enable eMBB (10Gbps – 20 Gbps) include:
Ultra-wide bandwidth (Up to 100MHz in <6GHz, Up to 400MHz in >6GHz)
Set of different numerologies for optimal operation in different frequency ranges
Native forward compatibility mechanisms
New channel coding
Native support for Low Latency and Ultra Reliability
Flexible and modular RAN architecture: split fronthaul, split control- and user-plane
Native end-to-end support for Network Slicing
The NR Phase 1 characteristics compared to LTE are summarized in the following table:

Release 16 Features
Release 16 was just completed.
The major focus in Release 16 is to enabling Ultra reliable low latency for mission critical applications.
The 5G System Phase 2
Enhancement of Ultra-Reliable (UR) Low Latency Communications (URLLC)
Cellular IoT support and evolution
Advanced V2X support
5G Location and Positioning Services
UE radio capability signaling optimization
Enablers for Network Automation Architecture for 5G
Wireless and Wireline Convergence Enhancement
Mission Critical, Public Warning, Railways and Maritime
Streaming and TV
User Identities, Authentication, multi-device (Network) Slicing
From a business angle, Release 16 enables applications for new vertical industries and deployment scenarios.
Integrated access and backhaul (IAB)
NR in unlicensed spectrum
Features for Industrial Internet of Things (IIoT) and ultra-reliable low latency communication (URLLC)
Intelligent transportation systems (ITS) and vehicle-to-anything (V2X) communications
Positioning
Release 16 and Ultra Reliable Low Latency Communication
The building blocks of 5G that enable URLLC include:
Low Latency: NR

enables shorter slots in a radio subframe
introduces a "mini-slot"; prioritized transmissions are started without waiting for slot boundaries

Time Synchronization: The radio network components
Resource Management; NR introduces:

Preemption – where URLLC data transmission can preempt ongoing non-URLLC transmissions
Fast processing, enabling retransmissions even within short latency bounds

Reliability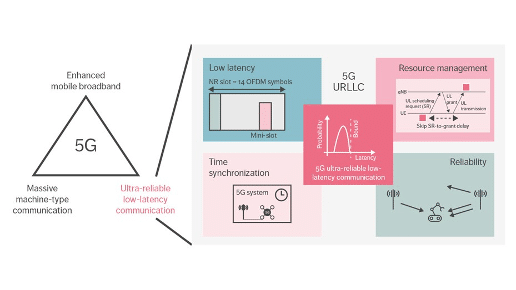 5G URLLC is a good match for IEEE standard defined for Time Sensitive Networking (TSN) which is a valuable candidate for industrial automation.
Release 17 Features
In 2020 Release 17 is mostly study items (Sis).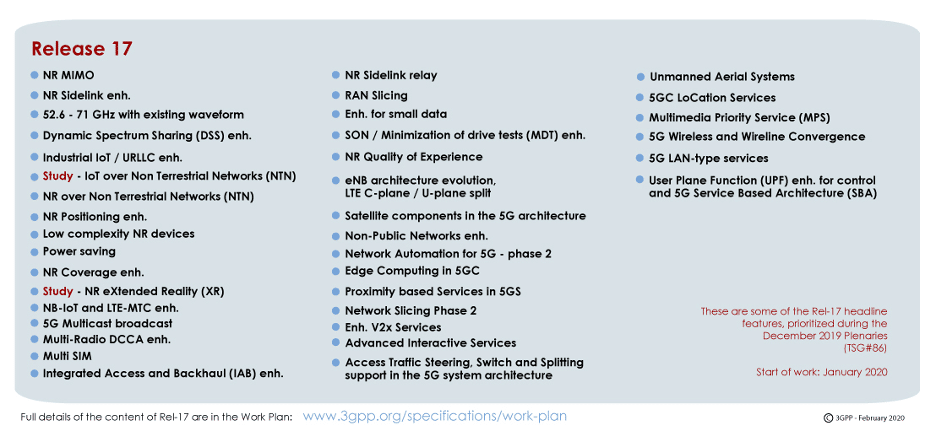 Study items for Release 17
NR up to 71 GHz (extend the current NR waveform up to 71 GHz) and to explore new and more efficient waveforms for the 52.6 – 71 GHz band
NR NB-IoT/eMTC: The objective is to develop cost-effective devices with capabilities that lie between the full-featured NR and Low Power Wireless Access (e.g., NB-IoT). For example, devices that support 10s or 100 Mbps speed vs. multi-Gigabit, etc. The typical use cases are wearables, Industrial IoT (IIoT), and others.
XR – The objective of this is to evaluate and adopt improvements that make 5G even better suited for AR, VR, and MR. It includes evaluating distributed architecture harnessing the power of edge-cloud and device capabilities to optimize latency, processing, and power.
Non-Terrestrial Network (NTN) support for NR & NB-IoT/eMTC– A typical NTN is the satellite network. The objective is to address verticals such as Mining and Agriculture, which mostly lie in remote areas, as well as to enable global asset management, transcending contents and oceans.
Perfecting items introduced in Release 16
Rel. 16 was a short release with an aggressive schedule. It improved upon Rel. 15 and brought in some new concepts. Rel 17 is aiming to make those new concepts well rounded.
Integrated Access & Backhaul – Enable cost-effective and efficient deployment of 5G by using wireless for both access and backhaul, for example, using relatively low-cost and readily available millimeter wave (mmWave) spectrum in IAB mode for rapid 5G deployment. Such an approach is especially useful in regions where fiber is not feasible (hilly areas, emerging markets).
Positioning – Achieve centimeter-level accuracy, based only on cellular connectivity, especially indoors. This is a key feature for wearables, IIoT, and Industry 4.0 applications.  Lead – CATT (NYU)
Sidelink – Expand use cases from V2X-only to public safety, emergency services, and other handset-based applications by reducing power consumption, reliability, and latency. Lead – LG
IIoT and URLLC – Evaluate and adopt any changes that might be needed to use the unlicensed spectrum for these applications and use cases.
Fine tuning features introduced in Release 15
Rel. 15 introduced 5G. Its primary focus was enabling enhanced Broadband (eMBB). Rel. 16 enhanced many of eMBB features, and Rel. 17 is now trying to optimize them even further, especially based on the learnings from the early 5G deployments.
Further enhanced MIMO – FeMIMO – This improves the management of beamforming and beamsteering and reduces associated overheads.
Multi-Radio Dual Connectivity – MRDC – Mechanism to quickly deactivate unneeded radio when user traffic goes down, to save power.
Dynamic Spectrum Sharing – DSS– DSS had a major upgrade in Rel 16. Rel 17 is looking to facilitate better cross-carrier scheduling of 5G devices to provide enough capacity when their penetration increases.
Coverage Extension– Since many of the spectrum bands used for 5G will be higher than 4G (even in Sub 6 GHz), this will look into the possibility of extending the coverage of 5G to balance the difference between the two.
Along with these, there were many other SI and WIs, including Multi-SIM, RAN Slicing, Self-Organizing Networks, QoE Enhancements, NR-Multicast/Broadcast, UE power saving, etc., was adopted into Rel. 17.
The following graphic courtesy Qualcomm illustrates the important enhancements in Rel. 17: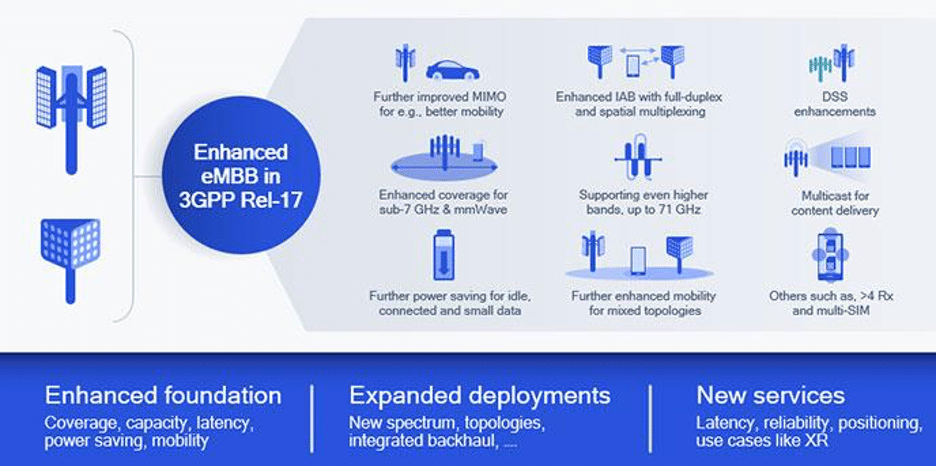 For over 30 years, Marin Ivezic has been protecting critical infrastructure and financial services against cyber, financial crime and regulatory risks posed by complex and emerging technologies.
He held multiple interim CISO and technology leadership roles in Global 2000 companies.